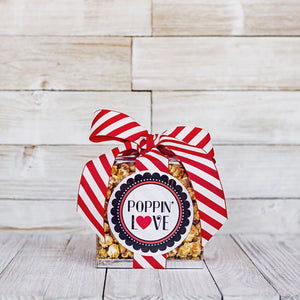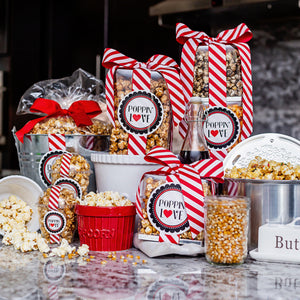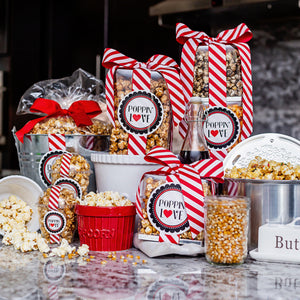 A beautifully wrapped 5"x5"x5" gift box filled with approximately 7 cups of the gourmet 
popcorn flavor of your choice! 
Every box comes with some sweet surprises that will inspire you all day long!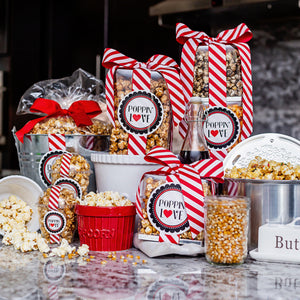 Delicious!
We ordered gourmet popcorn from Poppin' Love for our end of year school graduation gift. The boxes were beautifully decorated with our school colors and sticker congratulating our graduates. Everything came on time and arrived in perfect condition!
Becky was wonderful to work with, very responsive and professional!
The popcorn was absolutely delicious, like nothing I have ever had before! I highly recommend and would absolutely work with Poppin' Love again!
The best popcorn ever!!!
I received a gift of the Poppin love popcorn. After tasting it, I immediately ordered it as a gift to others! The popcorn is tasty, delicious, and every bite was delicious! Shipping was fast and the popcorn was very well packaged.
Perfect Christmas gift!
This small box of popcorn is such a great Christmas gift! It's already packed for gift-giving with its own clear box and a beautiful bow. The box that the gift came in was also lined with red gift tissue so it was perfect to be sent directly to loved ones. I stayed at home this season so I sent 10 boxes, all to different addresses all over the US. Everyone loved their treat. The box was also big, so the "small" was a perfect size. With shipping and tax, the small popcorn box came to about $25/box which after much research was the best price! Not only did I get a good deal, I also supported a local, woman-owned business!
Thanks, Poppin' Love!
excellent product..excellent service
Location:
Bolingbrook, IL
A gift ready to enjoy
The caramel cheddar gift box was perfect! The box with the big striped ribbon is so cute there's no need to wrap it. The included gift card makes this ready to give and enjoy. The presentation is just as impressive as the delicious popcorn inside. An easy gift to give that anyone will love!